Let's say you're like me: You got several audiobooks on CD over the years and you even ripped several of these to listen to them in your MP3 player/car.
So what I have is a number of audiobooks ripped as mp3s on my harddisk looking something like this: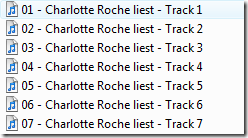 If you only have the CD what you would like to do is rip the whole CD as ONE large m4a AAC encoded audiofile. We need it to be an m4a because we later want to inject chapter marks. If you have this big AAC file just skip the next few steps. But if you got those several small mp3 files – one for each chapter you want to merge them together and reencode them as m4a AAC.
There is a great free tool to merge these mp3 files together. It's called (who would have thought) Merge MP3 and is available completely for free. It'll create one big mp3 file out of your several small ones.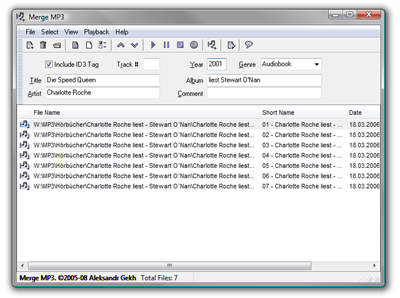 After you got that huge mp3 file you want to convert it into a m4a file with AAC encoding. I recommend using iTunes.
When you got that one huge m4a file you want to load it into a tool called Chapter Master. It's not free and will set you back $15 but it's worth as I did not find anything else that was a) that cheap b) that comfortable c) working.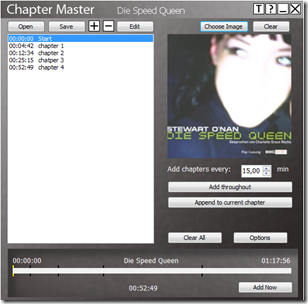 Load the m4a file into Chapter Master, add the chapters in the right order and at the right time. Eventually you want to add an album art picture. Click save and you're done.
The resulting file is a m4b file recognized by iTunes as an audiobook with chapters.
Source 1: http://www.shchuka.com/software/mergemp3
Source 2: http://www.rightword.com.au/products/chaptermaster/download.asp