I got these two quite old Windows Mobile Professional phones (with touchscreen and everything) and beside the fact that they are my phones I am using them just to display my calendar entries on my desk. Now I thought it would be a great thing if those two QVGA devices would display personal pictures in a slideshow.
And it would be even better if they would get their pictures from the internet. And even better if there would be an application that would allow me or my wife to upload/delete pictures from the slideshow playing on all devices.
Thought said, and done. I did a little afterwork project today, taking me approx. 3 hours with everything from scratch.
So I made these parts:
a webservice to upload, delete and retrieve the pictures

This really is just a webservice very similar to the one I used in my DropBox application. It's hosted on one of my machines and makes the pictures also available to the mobile clients.

an upload tool to upload, delete the pictures comfortably

I took the DropBox Application and customized it – it now resizes the pictures automatically before uploading and it can display a preview in the file browser.
Since it's already up and running and looking great on my desk I wanted to share it with you. Don't expect everything to work out-of-the-box but it's a start for everyone who wants to have something like this. Oh – of course your windows mobile device needs to have internet access…
So as usual here's the sourcecode of the whole package for your pleasure. Use it where ever and in what ever whay you want as long as you're crediting.
P.S: There's a fun fact I did not know: I accidently double-clicked the windows mobile application on my Vista machine and guess what: It just runs! Yes, manage Windows Mobile Application running natively on Windows Vista: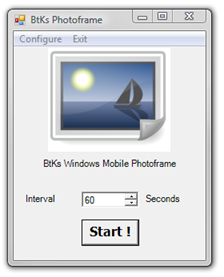 Source 1: PhotoFrame.zip (639,87 KB)
Source 2: DropBox