So it's been some days with the new Mediacenter Setup. And all I can say is: Oh boy that is some serious cool setup. I wouldn't want to chance anything beside adding a new Sound System (>5.1 FTW!).
The Display itself is thinner than thought: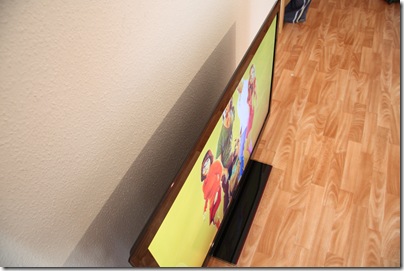 I strongly recommend the Mac + Plex + Full HD display setup. Even if you don't get any HD content from your cable provider you can live-stream or download HD content through the different provider plugins inside Plex. The plugin infrastructure with the built-in "App Store" is just great.
Since Plex is a XBMC based Mediacenter software you have tons of information scrapers regarding series and movies. So you're eventually huge collection gets indexed and presented in a way you would not get from any other Mediacenter. You get pictures, movie posters, descriptions and many more just by automatic indexing your collection.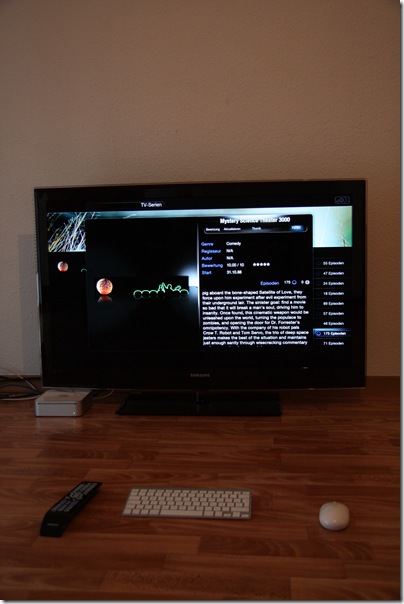 MST3k FTW!
Needless to say that HD content is something different. I only had some HD content on normal computer displays in the last years – having it now huge and sharp is different – better.
BTW: It's on the floor right now because my wife couldn't decide until now which tv-stand would suffice…
Source 1: http://av.samsung.de/produkte/detail2_main.aspx?guid=b6c1306c-f57d-4ce7-a944-56cc7346ed2e
Source 2: http://www.apple.com/macmini/
Source 3: http://plexapp.com/