There you are – you've spent hundreds of hours, maybe together with friends, in a game called Minecraft. You mined and you crafted. And you built yourself your own world. Out of blocks.
"Minecraft is a game about breaking and placing blocks. At first, people built structures to protect against nocturnal monsters, but as the game grew players worked together to create wonderful, imaginative things.
It can also be about adventuring with friends or watching the sun rise over a blocky ocean. It's pretty. Brave players battle terrible things in The Nether, which is more scary than pretty. You can also visit a land of mushrooms if it sounds more like your cup of tea."
Those who haven't played Minecraft yet – you're missing out a lot. It's fun and addictive. It seems pretty dull when you don't know it. As soon as you got immersed in it you immediately see that it's a lot bigger and the possibilities are a lot more varying than at first sight.
With all those blocks you can basically build your own world and humongously huge objects. It obviously takes a while in most cases because you (until you start using tools and mods) need to fit each block to the other in order to create those big objects.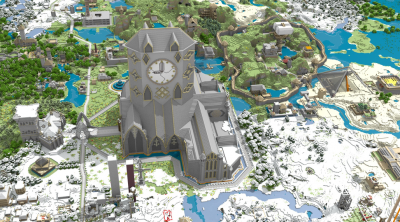 So imagine you got your own world and you want to create nice renderings of it to hang on your real-world-appartment walls? You can use a very simple to use and thankfully free (open sourced) tool to do that.
It's called McObj and it uses blender to render the exported geometry. Get it and send your renderings!
Source 1: https://github.com/quag/mcobj
Source 2: http://quag.imgur.com/minecraft__blender
Source 3: https://minecraft.net/
Source 4: http://www.pcgamer.com/2012/11/29/minecraft-renders-azeroth-and-the-pc-gamer-server/