The first signs of the upcoming camera board for the raspberry pi are showing. During the Electronica 2012 fair RS showed the board to the public for the first time.
Since it's going to be a 25 Euro add-on for the Pi the specification is quite impressive. The OmniVision OV5647 is used as the Image Sensor – it's bigger brother is used in iPhone 4. OmniVision says:
"The OV5647 is OmniVision's first 5-megapixel CMOS image sensor built on proprietary 1.4-micron OmniBSI™ backside illumination pixel architecture. OmniBSI enables the OV5647 to deliver 5-megapixel photography and high frame rate 720p/60 high-definition (HD) video capture in an industry standard camera module size of 8.5 x 8.5 x ≤5 mm, making it an ideal solution for the main stream mobile phone market.
The superior pixel performance of the OV5647 enables 720p and 1080p HD video at 30 fps with complete user control over formatting and output data transfer. Additionally, the 720p/60 HD video is captured in full field of view (FOV) with 2 x 2 binning to double the sensitivity and improve SNR. The post binning re-sampling filter helps minimize spatial and aliasing artifacts to provide superior image quality.
OmniBSI technology offers significant performance benefits over front-side illumination technology, such as increased sensitivity per unit area, improved quantum efficiency, reduced crosstalk and photo response non-uniformity, which all contribute to significant improvements in image quality and color reproduction. Additionally, OmniVision CMOS image sensors use proprietary sensor technology to improve image quality by reducing or eliminating common lighting/electrical sources of image contamination, such as fixed pattern noise and smearing to produce a clean, fully stable color image.
The low power OV5647 supports a digital video parallel port or high-speed two-lane MIPI interface, and provides full frame, windowed or binned 10-bit images in RAW RGB format. It offers all required automatic image control functions, including automatic exposure control, automatic white balance, automatic band filter, automatic 50/60 Hz luminance detection, and automatic black level calibration."
That sensor delivers RAW RGB Imagery to the RaspberryPi through the onboard camera connector interface: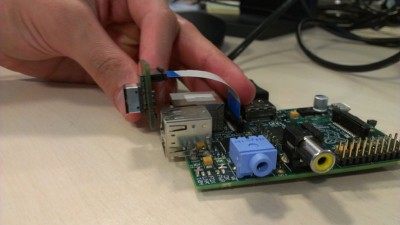 And the part that impressed me the most is that that 5 Megapixel sensor delivers it's raw data stream and it gets h264 compressed directly within the GPU of the Raspberry Pi. 30 frames per second 1080p without noticeable CPU load – how does that sound? – Not bad for a 50 Euro setup!
Source 1: First Demo
Source 2: OmniVision OV5647 Color CMOS QSXGA Image Sensor