TIL that I could do something which I assumed everybody could do. I could make me hear a roaring thunder sound by flexing a muscle I did not know until now.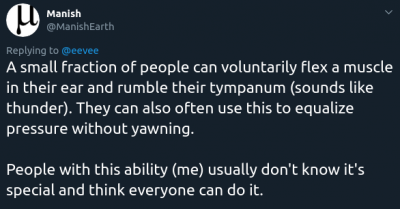 It's quite interesting. The muscle is named "Tensor tympani" and it's here: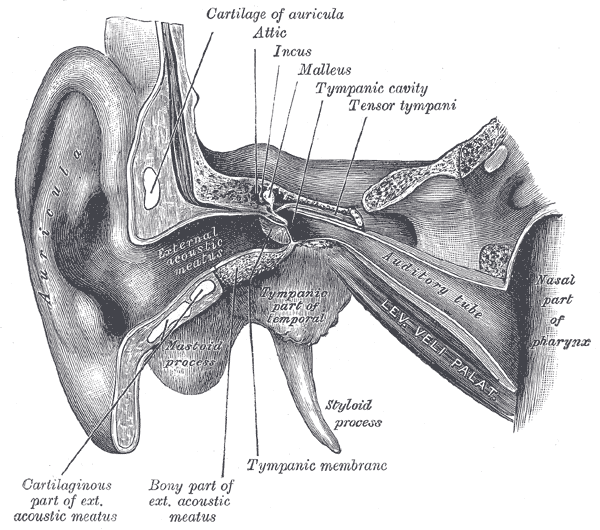 The tensor tympani acts to dampen the noise produced by chewing. When tensed, the muscle pulls the malleus medially, tensing the tympanic membrane and damping vibration in the ear ossicles and thereby reducing the perceived amplitude of sounds.

https://en.wikipedia.org/wiki/Tensor_tympani_muscle#Voluntary_control
So the eye has an Iris to control how much light makes it in. The ear has this muscle to dampen too loud sounds. And apparently not everyone is able to willingly control it. Bummer!
Contracting muscles produce vibration and sound. Slow twitch fibers produce 10 to 30 contractions per second (equivalent to 10 to 30 Hz sound frequency). Fast twitch fibers produce 30 to 70 contractions per second (equivalent to 30 to 70 Hz sound frequency). The vibration can be witnessed and felt by highly tensing one's muscles, as when making a firm fist. The sound can be heard by pressing a highly tensed muscle against the ear, again a firm fist is a good example. The sound is usually described as a rumbling sound.

Some individuals can voluntarily produce this rumbling sound by contracting the tensor tympani muscle of the middle ear. The rumbling sound can also be heard when the neck or jaw muscles are highly tensed as when yawning deeply. This phenomenon has been known since (at least) 1884.

https://en.wikipedia.org/wiki/Tensor_tympani_muscle
Interesting theories not started in my head. As I am very sensitive to chewing noises of all sorts – either produced by myself or by others. This could give an explanation to why.
Now excuse me, I need to flex this muscle and make the thunder roar!