NTT DoCoMo might not have been the first ones to release feature phones with actual emoji characters to be used in text messaging. But their set of original emojis is just oh-so-beautiful to look at.
With the help of Monica Dinculescu we now can enjoy these emojis on our modern era computing machines.
Behold: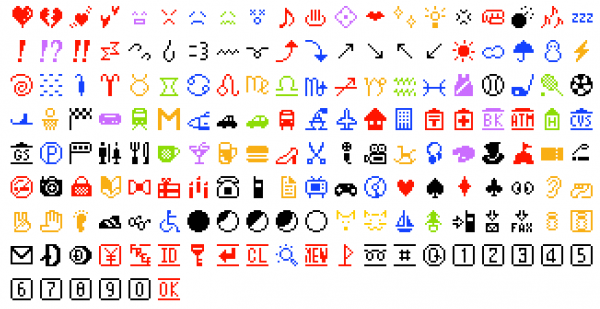 You can either get the font downloaded for free directly from Monicas page or you could use her SVG code to further make use of the great emojis.
If you go for the SVG link you will get some overview alike the one at the start of this post. If you wanted to further work with the raw vector data (SVG) in there you could use this simple trick:
Step 1: locate the emoji you want in the code of the page. Maybe by utilizing the developer tools of your browser.
Step 2: Copy that specific element that you want to your clipboard / into a new text document.
Step 3: add the proper header tag before the element you've copied.
<?xml version="1.0" encoding="utf-8"?>
Step 4: Save the contents now as a file with the .svg ending. You can now open it up in any SVG compatible editor, like Inkscape.