I played with SDR – Software Defined Radio – back in 2013. I've still got the equipment around.
Now that I am thinking about it – there is a practical use-case that I will look into in the coming months for sure for it. And just to mention this use case here: With SDR I could create a more versatile 443/886 Mhz receiver.
Anyhow. SDR hardware allows you to access a whole spectrum of radiosignals at once. And a common way to visualize the spectrum is to draw the amplitudes in a line add each new measurement as a new line – color/brightness coded.
What you get is some sort of waterfall diagram that looks like this: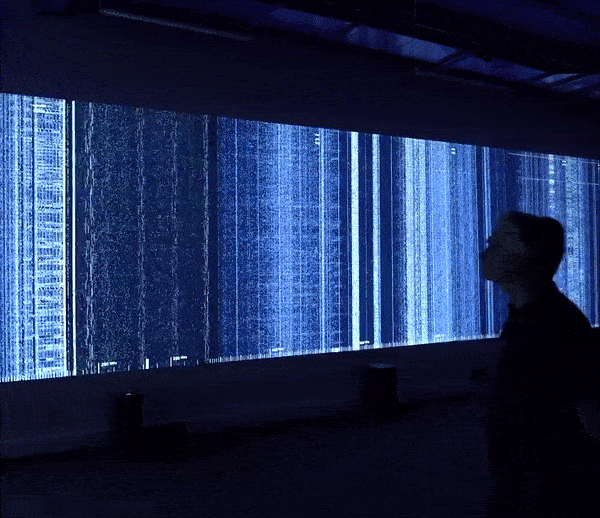 Hertzian Landscapes (2019) is a live visualization of the radio spectrum. Unlike visible light, waves in the radio spectrum cannot be perceived by us directly yet this space is teeming with human activity. Hertzian Landscapes employs a digital receiver to scan large swaths of radio spectrum in near real-time and visualizes thousands of signals into a panoramic electromagnetic landscape. Users can zoom in to specific frequencies by positioning themselves in front of the panorama as if controlling a radio tuner with their body, giving them a sense of walking through the spectrum.
From radio broadcasts to weather satellites and from medical implants to aeronautical navigation, the radio spectrum is divided into hundreds of designated slices each tied to a specific application. Based on a localized frequency database that describes these slices, signals are annotated to provide information about their theoretical type and application.

http://www.hertzianlandscapes.com/