I gave Rifftrax a swing in 2006 when they started their project. Now it's time for a revisit.
Rifftrax was created by the same people that created and made the series "Mystery Science Theater 3000" so successfull.
Think of this: You go to the movies. Bad movies mostly. And there are 3 of your friends next to you and constantly commenting the movie – in a funny way.
Since MST3k had ended a long long time ago the people behind it have started to do the same with current movies. And this they called "Rifftrax":
Mike Nelson, Bill Corbett and Kevin Murphy, the former stars of Mystery Science Theater 3000, create commentaries for B-movie oddities and Hollywood blockbusters. It's like watching a movie with your funniest friends!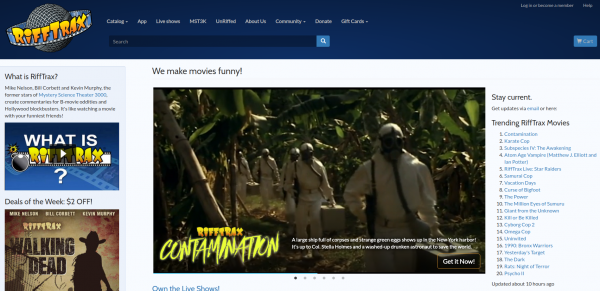 Their catalog has grown from 0 in 2006 to over 222 full length feature movies and much much more shorts.
If you have never experienced their art: Give them a try. You'll probably laugh a lot!