Two weeks ago I had read an article about a "replacement for papernotes" product called "Boogie Board". The company behind the product claims to replace paper with the bold slogan of "say goodby to paper".
Well what is it? Basically it's a liquid crystal display without the logic to adress specific pixels. So think of it like taking the liquid crystal part and leaving out all the transistors and logic to actually display something. Then add a pen or even your finger nail and you can "write" on that display – what's happening is that obviously the crystals get pushed aside and the background of the "display" shines through – this background is white so when you write on the boogie board everything is white on black…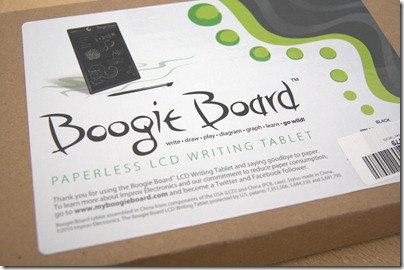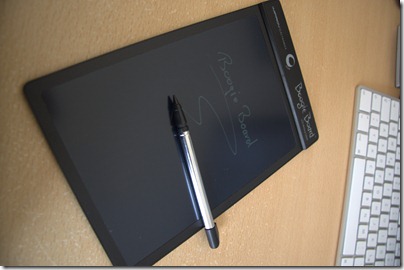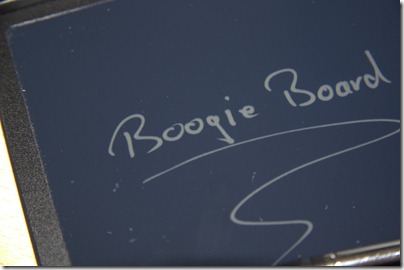 The only button on the tablet is named "erase" – and that's what the button does: the whole display flashes two times, one white, and then black and everything is back to where we started. You cannot save. You just press erase and start over. It's truly a replacement for post-it-notes…
Of course there's a battery inside, and it's said to hold for tens of thousands of erases. You cannot change the battery when it's empty, but on the other hand this gadget is less than 30 Euros and it does look like you can break it up and try your best to exchange the battery yourself. Since the battery isn't needed to display anything I don't think I will run out of juice just yet.
Source: http://www.improvelectronics.com