There are many things which are underestimated when team leads think about their team and possible actions to drive progress.
One of those things is that a team needs information to maintain and gain velocity. You cannot expect everyone to know just out of the blue what is important and in which direction everything is moving. To let everyone know and to develop that direction it's important to share information as much as possible. It's important to give everyone access to the information necessary to make a better job.
That's why we had a build monitor at sones. We had a tool that displayed the current status of our build servers to all developers. Everytime someone committed a change, those build servers got this commit, built it and tested it with automated tests. The status of that could be seen by all developers as things happened.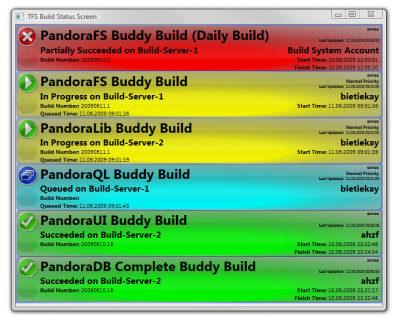 So within seconds everyone could see if his commit did break something. Even better: Everyone could see. Everyone cared that the build needed to be working, that tests needed to pass. It was everyones job to do the housekeeping. When we switched from Team Foundation Server to GIT and Jenkins this status display needed to be replaced – you could immediately tell that things went from good to not-so-good in terms of build stability and automated testing.
Today I had the opportunity to take a tour of the Thomann logistics center. Standing in the support department I had this in front of me:

There were like 6 big status screens displaying incoming call status of the day, sales figures and other statistics important to those who work there. It's a very important and integrated way to keep information flowing.
Since I am with Rakuten I thought about having a new status board set-up for my team. Something that might be inspired by the awesome status board which panic has built: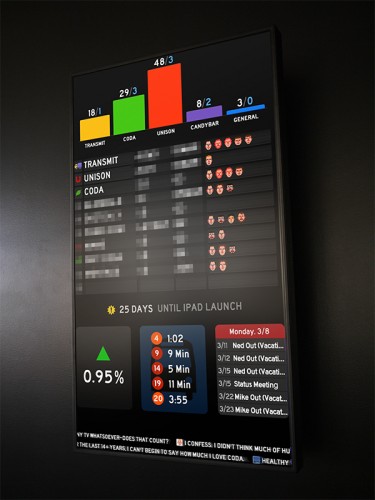 Since in addition to sones there are a lot of more things to track and handle (code, deployment, operations, overall numbers) I think such a status board will be of invaluable worth for the team.
Source 1: http://www.panic.com/blog/2010/03/the-panic-status-board/