It appeared to me that I stopped working with a decent keyboard since I moved completely to Macs at home. I was using the keyboards the machine came with and not always does Apple deliver the best possible keyboard for the money.
So I tried to turn back to my trusty IBM PS/2 Model M last week and I had to find out that somehow the actively powered USB to PS2 adapter I had is got lost. A passive one just doesn't cut it and the keyboard does not work at all.
I remembered that in 2006 I wrote about a back-then-new keyboard that resembled the fantastic Model M. Voilá! They even worked on their keyboards since 2006 and improved them :-)
A little bit more than 6 years after writing first about the product I got me a "das Keyboard Ultimate S EU".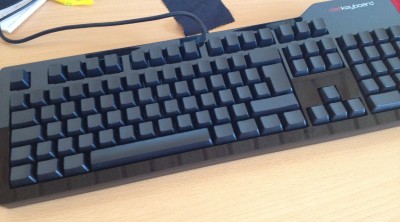 First verdict: It is awesome!
It's expensive, that's true. But if just feels right typing on it. I can see me writing a lot of stuff for longer periods on that keyboard :-)
Source 1: http://www.schrankmonster.de/2005/05/22/real-elite-keyboard
Source 2: http://www.schrankmonster.de/2005/08/17/teh-keyboard-for-teh-coders/