Did you notice that most calendars and timers are missing an important feature. Some information that I personally find most interesting to have readily available.
It's the information about how much time is left until the next appointment is coming up. Even smartwatches, which should should be jack-of-all-trades in regards of time and schedule, do not display the "time until the next event".
Now I came across this shortcoming when I started to look for this information. No digital assistant can tell me right away how much time until a certain event is left.
But the connected house also is based upon open technologies, so one can add these kind of features easily ourselves. My major use cases for this are (a) focussed work, plan quick work-out breaks and of course making sure there's enough time left to actually get enough sleep.
As you can see in the picture attached my watch will always show me the hours (or minutes) left until the next event. I use separate calendars for separate displays – so there's actually one for when I plan to get up and do work-outs.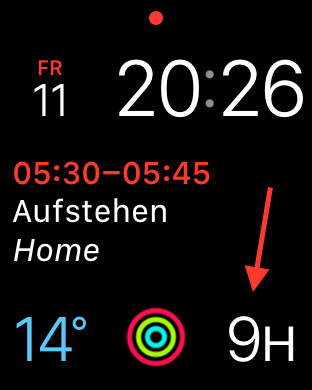 Having the hours left until something is supposed to happen at a glance – and of course being able to verbally ask through chat or voice in any room of the house how long until the next appointment gives peace of mind :-).