The last Ubuntu kernel update seemingly kicked two hard disks out of a ZFS raidz – sigh. With ZFS on Linux this poses an issue:
Two hard drives that previously where in this ZFS pool named "storagepool" where reassigned a completely different device-id by Linux. So /dev/sdd became /dev/sdf and so on.
ZFS uses a specific metadata structure to encode information about that hard drive and it's relationship to storage pools. When Linux reassigned a name to the hard drive apparently some things got shaken up in ZFS' internal structures and mappings.
The solution was these steps
export the ZFS storage pool (=taking it offline for access/turning it off)
use the zpool functionality "labelclear" to clear off the data partition table of the hard drives that got "unavailable" to the storage pool
import the ZFS storage pool back in (=taking it online for access)
using the replace functionality of zpool to replace the old drive name with the new drive name.
After poking around for about 2 hours the above strategy made the storage pool to start rebuilding (resilvering in ZFS speak). Well – learning something every day.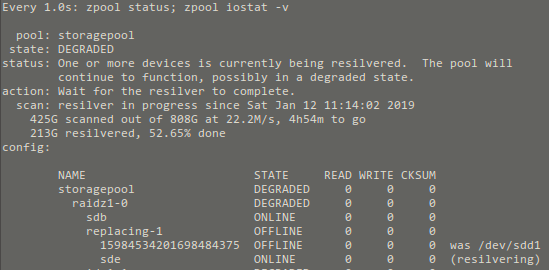 Bonus: I was not immediately informed of the DEGRADED state of the storage pool. That needs to change. A simple command now is run by cron-tab every hour.
zpool status -x | grep state: | tr –delete state: |mosquitto_pub -t house/stappenbach/server/poppyseeds/zpool -l
This pushes the ZFS storage pool state to MQTT and get's worked on by a small NodeRed flow.