Well, it's about time to do something about MyFitnessPal. In our family we're using their service by the daily. But just for logging. No reports, no further features used.
But still, we were using it for quite a time now:

The service has started to roll out ads for some time now in their apps. There are only iOS / Android apps available. And a mediocre website.
Just recently they started to announce that their free service will restrict how many years back are going to be stored. From those 5 years we will loose 3.
In addition the whole integration has never gotten to a point where I would have decided to upgrade to the paid premium version. No functionality ever got added. No interfacing with scales, no optimizations for UI/UX, …
But they now reduce the functionalities and service and want me to cough up a bit of money: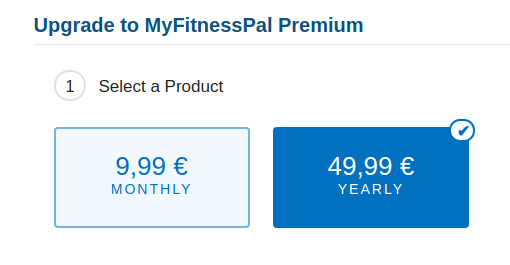 I am not generally against subscriptions. But I am not getting 9,99 Euro of value out of the service. A shared google sheet would almost achieve parity. And the price itself is just not value based. For 2 Euro I probably would not feel the urge to move on. For 9,99 (times 2 for 2 accounts) make me move.
So I've sat down with my wife and we scribbled up some things we want to have in a replacement. The content and feature-set is agreed. Now I'll throw up a prototype app.
It'll be integrated with the MQTT scales. And with the flow we came up with we hopefully will reduce the interactions dramatically over MyFitnessPal. And it'll never stop saving history. And I'll learn something new.