I am having a hard time learning japanese and reading/writing the kanji especially.
Having to write japanese city names frequently (for example when doing searches) I still do remember the spoken out version of the name but I do not quite yet remember the kanji version. Also I do not want to switch back and forth in keyboard languages.
For this, especially in macOS and iOS there is a nice way around this. With the built-in "Text Replacement" feature of your Mac or iPhone/iPad you can easily mass-import a mapping between the romanized version of a word and the japanese written out kanji version of that word.
While you are typing then you will be presented with recommendation text replacements, effectively the kanjis of what you've just tried to write.
Unfortunately I do not know a way how to mass-import these text-replacements on iOS.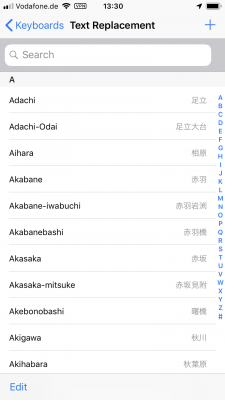 But if you own a macOS computer and you have it synced over iCloud with your mobile phone or tablet you will likely be able to open the text replacement pane in your system settings and import this plist file into it. Simply drag the file (after unzipping the ZIP file) into the text replacement window.
Download the Tokyo-Text-Replacement.zip file. Extract it (double clicking). And drag the .plist file into the Text Replacement Window.
For you to derive your own files you can find the raw data, a list of all designated Ken and Ward names in Tokyo here: