So you're listening to this audio book for a while now, it's quite long but really thrilling. In fact it's too long for you to go through in one sitting. So you pause it and eventually listen to it on multiple devices.
We've got SONOS in our house and we're using it extensively. Nice thing, all that connected goodness. It's just short of some smart features. Like remembering where you paused and resuming a long audio book at the exact position you stopped the last time. Everytime you would play a different title it would reset the play-position and not remember where you where.
With some simple steps the house will know the state of all players it has. Not only SONOS but maybe also your VCR or Mediacenter (later use-case coming up!).
Putting together the strings and you get this:
Whenever there's a title being played longer than 10 minutes and it's paused or stopped the smart house will remember who, where and what has been played and the position you've been at.
Whenever that person then is resuming playback the house will know where to seek to. It'll resume playback, on any system that is supported at that exact position.
Makes listening to these things just so much easier.
Bonus points for a mobile app that does the same thing but just on your phone. Park the car, go into the house, audiobook will continue playback, just now in the house instead of the car. The data is there, why not make use of it?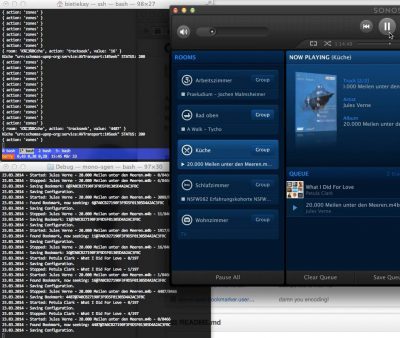 p.s.: big part of that I've opensourced years ago: https://github.com/bietiekay/sonos-auto-bookmarker