Many cars these days come with head up displays. These kind of displays are used to make information like the current speed appear "floating" over the street ahead right in your field of vision.
This has the clear advantage that the driver can stay focused on the street rather than looking away from the street and to the speedometer.
As practical as it seems these displays are not easy to build and seemingly not easy to design. Every time I came across one it's built-in functionalities where limited in a way that I only can assume not a lot of thought had gone into what exactly would the driver like to see and how that would be displayed. There was always so much left to desire.
Apparently the technology behind these HUDs is at a point where it's quite affordable to start playing with some ideas to retrofit a car with a more personal and likeable version.
So I started to take a look at what is available – smart phones have bright displays and I had never tried to see what happens when you try to utilize them to project information into the windshield. So I tried.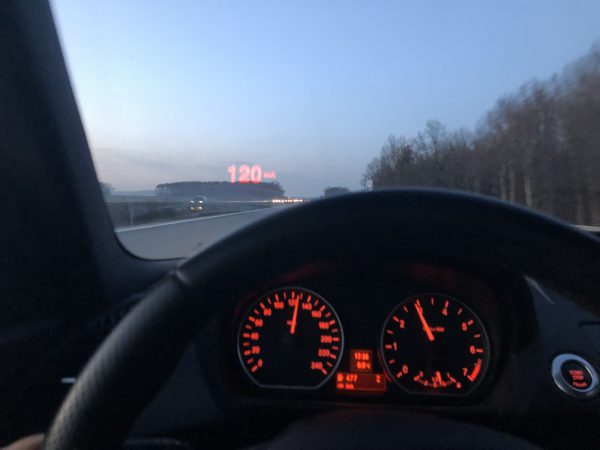 As you can see – bright enough, readable but hazy and not perfectly sharp. The reason is quite simple:
"In the special windshield normally used, the transparent plastic safety material sandwiched in between the two pieces of glass must have a slight and very precise wedge, so that the vehicle operator does not see a HUD double image."

laserfocusworld
There are some retrofit adhesive film solutions available that claim to help with that. I have not tried any yet. To be honest: to my eye the difference is noticeable but not a deal-breaker.
So I've tried apps available. They work. But they do a lot of things different from how I would have expected or done them. They are bearable, but I think it could be done better.
tldr: I started prototyping away and made a list of things that need to be done about the existing HUD applications.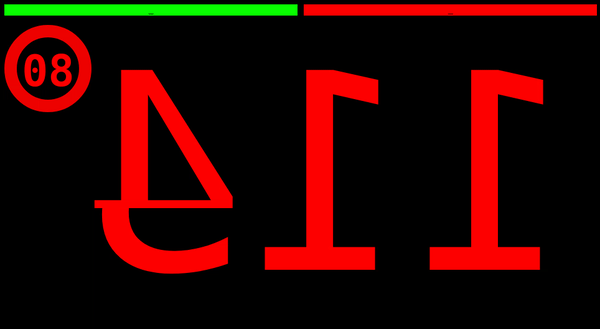 Here's my list of what I want to achieve:
display orientation according to driving direction – I had expected all HUD applications to do this. They know the driving direction. They know how the device is oriented in space. They can tell which direction the windshield is. They know how to correctly turn the screen. They do not do that. None of them.
fonts and numbers – I cannot stand the numbers jumping around when they change up and down
speed steps interpolation – GPS only delivers a speed update every second or so. In this time speed might jump up and down by more than +1. The display has 60 fps and gyros to play with and interpolate… I want smooth number transitions.
have an "eco-meter" – using gyros the HUD would be able to display harsh accelleration and breaking. Maybe display a color-coded bar and whatever is measured is reflected in the bar going left or right…
speed-limit display – apparently this is a huge issue looking at the data availability. There seems to be open-street-map data and options to contribute. Maybe that can be added.
have a non-hud mode – non mirrored to use for example to set speed limits and contribute to OpenStreetMap this way!
automatically switch between HUD and non-HUD mode – because the device knows it's orientation in space – if you pick it up from the dashboard and look into it, why not automatically switch?
speed zones color coding – change the color of the speed display depending on configurable speed regions. 0-80 is green, 80-130 is yellow, 130-250 is red.
turn display off when car stopped – if there's nothing displayed or needs to be displayed, for example because the car stopped the display can be turned off completely on it's own.
Navigation is of limited value as the only way I could think of adding value would be a serious AR solution that uses the whole windshield. Now I've got these small low-power projectors around… that get's me thinking…
What would you want to have in such a HUD in your car?