There are some things that, when looked at closely, just amaze you. This picture was like that for me: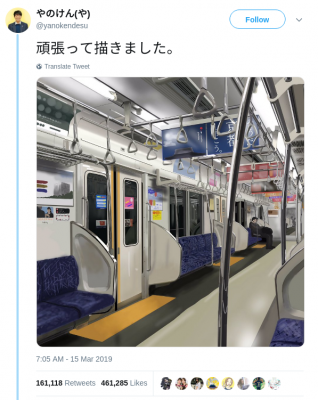 I stumbled on this picture on Twitter. At first it looks like your average japanese train. With the blue seat cushions. The adverts and hand rails. All normal, right?
If you read the text or start to zoom in you will find that this is not a picture taken with a camera. This is a drawing.
This visual art is called Hyperrealism and it takes a lot of dedication and skill when done free-hand.
The artist had posted this picture on his Twitter feed. He explains that he had drawn it whilst commuting on the train over the course of a month. He used an iPad Pro and MediBang Paint. Of course he also names the train-type: Tobu Series 5050 used by the Tobu line in the greater Tokyo area.