Almost three years ago I wrote about this nice little Regular Expression Tool which provides not only a RegEx-Builder but also a clean and nice interface to test and play.
It was a CodeProject sample project in that time and as it turns out it became a full blown version 3!
Obviously the user interface was revamped completely: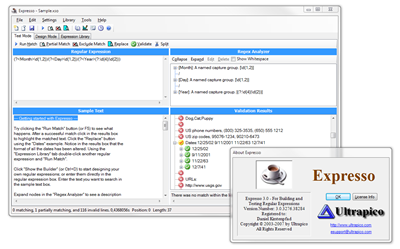 So you now not only get the Testing and playing but also a Regular Expression Library, a cool How-To, a more useable design mode and you can even output your final regular expressions to C#, VB.NET or managed C++!
Great stuff! Even better is the fact that it does not come at any costs. Despite the fact that there's a registration you can just get your free license on their website.
Source 1: http://www.ultrapico.com/Expresso.htm
Source 2: want some espresso?