Great find this weekend. I haven't heard of Ladyhawke until Saturday. Now it's the soundtrack of this weekend and the upcoming week!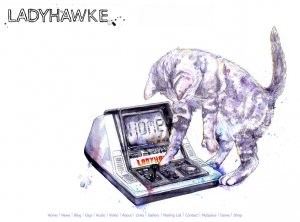 Great pop music with a touch of rock. Powerful and fast. One of my favourites in the album is "My Delirium" – a song that has a subtle feeling of the Cardigans song "My Favourite Game".
Ladyhawke writes in her blog about it:
"I wrote the song a year and a half ago after days of no sleep due to terrible jetlag. I felt like I was going out of my mind. I was missing my friends and family back home, and I was basically living to hear my phone ring in hope that it would be one of them calling. So my delirium came out of me thinking I was going crazy from lack of sleep!
I always knew this song had the potential for a really imaginative video, considering the general theme of the song is me going crazy. So when I read the treatment sent in by the Frater guys, a duo of London based directors who specialise inanimation, I knew it was the one!"
Source: http://www.ladyhawkemusic.com/