Since there are still 9 days to go till SXSW 2010 it's a pleasure to give out a link to the completely unofficial torrents which old all mp3 files of almost all songs which are to be presented at this years SXSW:
"The SXSW® Music and Media Conference showcases hundreds of musical acts from around the globe on over eighty stages in downtown Austin. By day, conference registrants do business in the SXSW® Trade Show in the Austin Convention Center and partake of a full agenda of informative, provocative panel discussions featuring hundreds of speakers of international stature."

Source 1: http://www.sxsw.com/music
Source 2: http://sites.google.com/site/sxswtorrent/2010
Oh what a nice n3rd toy this would be. Rumors say it will be available soon for under $30. And for those who right now think: "What the hell is this?" – This is a coffee mug in the shape of a quite expensive canon lens. In fact I already heard of that idea more than a year ago and wrote about it here. At this time there were only hopes that it would be produced.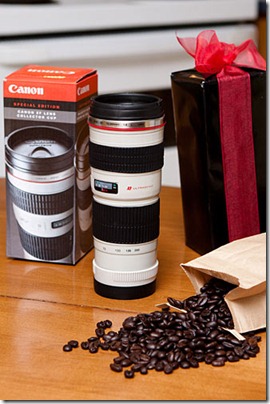 Source: http://www.petapixel.com/2010/03/06/canon-lens-mug-purchased-in-canada/