Normally I am using a notebook and a 24" Widescreen TFT as a Dual-Monitor solution. In fact I am mostly using the 24" TFT for work and the notebook 14" TFT for all the things that don't need to be in focus right now like Instant Messengers.
Now in those few cases when a video needs to be played I want it on the main monitor but I want it to take as little of space as possible. And I want it On Top of everything else… maybe sometimes I even want to control it's opacity a bit…
Now there's this cool tool called "OnTopReplica" – It's available for free on Codeplex and works out of the box without installation.
After you start it you'll end with a small glas window where you can right-click to get a menu. You choose a Window which needs to be replaces – for example the YouTube Browser Window. After that you can even control which region of this Window should be displayed. You can resize, move and of course control the opacity of this window.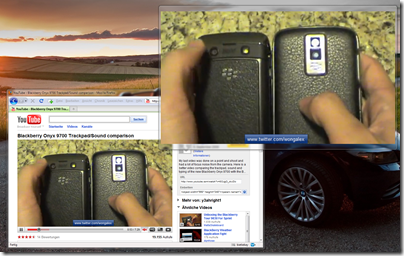 It's also great for presentations because it allows you to simply resize any window you like. It will resize it and while it does that the window always is "live" – so everything you're doing in the original window will be displayed in the replica.