I recently wrote about how I am using ThinClients in our house to always have a ready-to-use working environment that get's shared across different desks and work places.
To complete the zoo of devices I wanted to take the chance and write about another device we're using when the purpose fits: ChromOS devices.
A little bit over a year ago I was given a HP Chromebook 11 G5 and this little thing is in use ever since.
The hardware itself is very average and works just right. The only two things that could be better are the display and the trackpad. With the trackpad you can help yourself with an external mouse.
The display works for the device size but the resolution being 1366×768 is definitely a limiting factor for some tasks.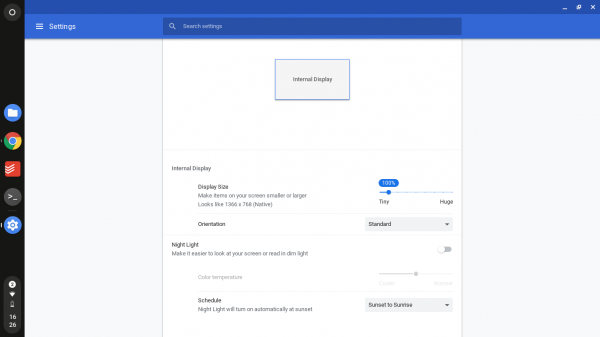 What is not a limiting factor, astonishingly, is the operating system. I did not have any expectations at all when I first started using the Chromebook but everything just fell into place as expected. A device with almost no local storage and everything on the google cloud as well as a device that you can simply pick up and start using with just your google account may not sound crazy innovative. But let me tell you: if you start living that thin client, cloud stored life these Chrome OS devices hit the spot perfectly.
Everything updates in the background and as long as you are okay with web based applications or Android based applications you are good to go.
Did I miss anything functionwise? Yes. At the beginning there was no real shell or Linux tools available for Chrome OS natively. This has changed.
Would I buy another one or do I recommend it and for whom? I would buy another one and I would recommend it for certain audiences.
I would recommend it for anyone who does not need to game anything not available in the Google Playstore – anything that can be done on the web can be done with the Chromebook. And as long as there is not the requirement of anything native or higher-spec that requires you to have "Windows-as-a-hobby" or a beefy MacOS device sitting around I guess these inexpensive Chrome OS devices really have their niche.
For kids – I guess this would make a great "my-first-notebook" as it works when you need it and does not lock you in too much if you wanted to start exploring. But then again: what do I know – I do not have kids.