AI and deep-learning is not always necessary or helpful. In this case impressive results have been achieved without the use of any of the hyped technologies.
In this case you give the algorithms two inputs. A video base that you want to stylize and a base picture that resembles the style you want to achieve.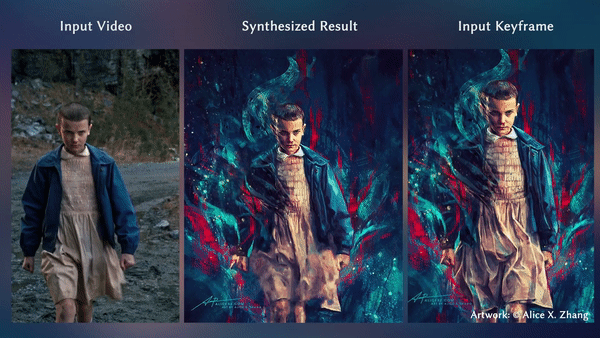 We introduce a new example-based approach to video stylization, with a focus on preserving the visual quality of the style, user controllability and applicability to arbitrary video. Our method gets as input one or more keyframes that the artist chooses to stylize with standard painting tools. It then automatically propagates the stylization to the rest of the sequence. To facilitate this while preserving visual quality, we developed a new type of guidance for state-of-art patch-based synthesis, that can be applied to any type of video content and does not require any additional information besides the video itself and a user-specified mask of the region to be stylized. We further show a temporal blending approach for interpolating style between keyframes that preserves texture coherence, contrast and high frequency details. We evaluate our method on various scenes from real production setting and provide a thorough comparison with prior art.

Stylizing Video by Example Paper

Apparently there also is a Windows demo available in which you are supposedly be able to create your own stylized short clips. But as I wanted to try it out it threw a lot of funky messages regarding the application to be specifically untrustworthy / possibly malicious. So be aware and cautious.