Ever since I've first visited Tokyo in 2012 I fell in love with country, culture and the city. On average I was there 4 times a year to do business.
After leaving Rakuten I went back to Tokyo for a vacation together with my wife in October 2017. The idea was to show her what I was enthusiastically mumbling about all the time when I came back from Japan.
When staying in Tokyo I've stayed in different areas across the city. From very center to not-so-much-center. Given the great public transportation and taxi system in Tokyo it always was a great experience.
So after a couple of times I developed a preference for an area that was in walking distance to the Rakuten office, was well connected to the public transport system and offered all sorts of starting-points for daily life on a longer term. It ticked a lot of boxes.
You can follow my foot-steps from a route I had recorded in 2015 in preparation for a presentation I've held at the Rakuten Technology Conference on my pet project Miataru.
The areas name is Musashi-Kosugi (武蔵小杉). And it actually is in the city of Kawasaki in Kanagawa prefecture. Effectively just across the Tama river from Ota-city in Tokyo prefecture.
Like any great neighborhood everything is conveniently close and the service everywhere is spotless. The hotel of preference is fairly priced and extremely close to the two train stations. So you can get anywhere quick by train.
You can see the hotel location and the train tracks pretty well on this next map. The red portion shows the viewing direction of the night-picture below.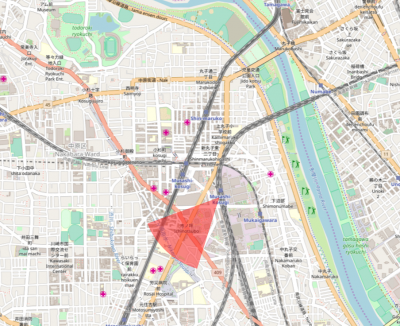 And like any great neighborhood there's loads of current information available and lots of community activities around the year. In the case of Musashi-Kosugi you can have the more official website and the more up-to-date blog.
If you plan to visit Tokyo I can only recommend you take a look at more off center options of accomodation. I've always enjoyed being able to leave the center of buzz like Shibuya, Ropongi and get back into my bubble of quietness without compromising on everything else than party-and-entertainment options. Actual longer-term daily-life is much more enjoyable off-center – as you can imagine.
And for the end of this post: Let us enjoy a sunset with parts of the Musashi-Kosugi skyline: