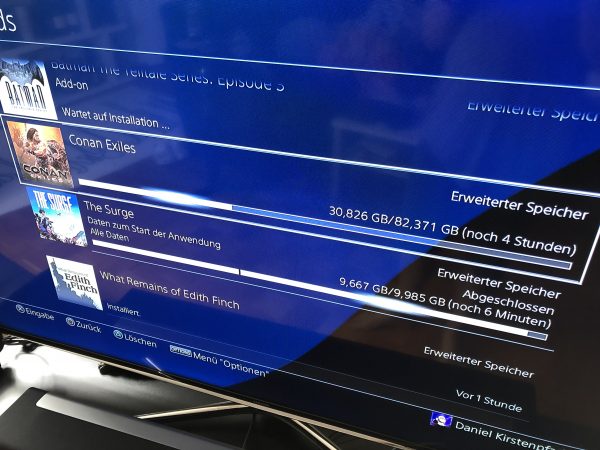 Every month there are free games to download and try out with the Playstation Plus subscription. There was a game named "Conan Exiles" included and so my Playstation started the download.
After the download taking unexpectedly long I checked the download queue and found the reason why it would take so long to download. This game is over 82 Gbyte in size. This is quite unexpected.
Conan Exiles is an open-world survival game set in the brutal lands of Conan the Barbarian. Survive in a savage world, build your kingdom, and dominate your enemies in brutal combat and epic warfare.

Start with nothing but your bare hands and forge the legacy of your clan, building anything a small home to gigantic fortresses and entire cities. Wage war using swords, bows, siege weapons, and even take control of giant avatars of the gods and lay waste to enemy cities.

Explore a vast, seamless world full of challenge and opportunity. Hunt animals for resources, slay monsters for treasure, and delve deep underground to discover the secrets of ancient civilizations.

Conan Exiles: The Game
It's still downloading. But what content could await if it only fits into 82 Gbyte of (assuming) compressed data?!